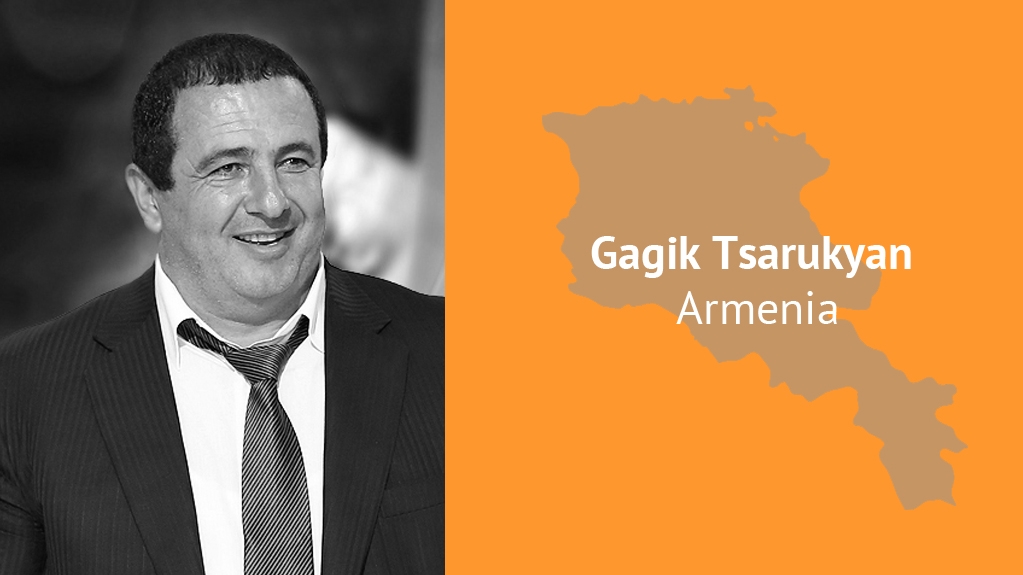 "Gagik Tsarukyan is a 60-year-old Member of Parliament in Armenia's National Assembly and was a well-known businessman even before he entered politics. He started as an MP in 2003 and one year later founded the "Prosperous Armenia Party". Tsarukyan is also an athlete – an arm-wrestler. He has been the president of the National Olympic Committee of Armenia since 2004 and is one of the richest men and property owners in Armenia. He owns a lot of companies, not only in Armenia, but also abroad – Latvia, Belarus, Ukraine, Bulgaria. Tsarukyan's business includes beer, brandy, wine and vodka factories, hotels and a casino, a TV channel, gas trade networks, mines and a cement factory, chemical drug companies, shops that sell clothes, accessories, and arms. And all this is just one part of his business activity."
Vahe Sarukhanyan is an investigative reporter for Hetq Online newspaper.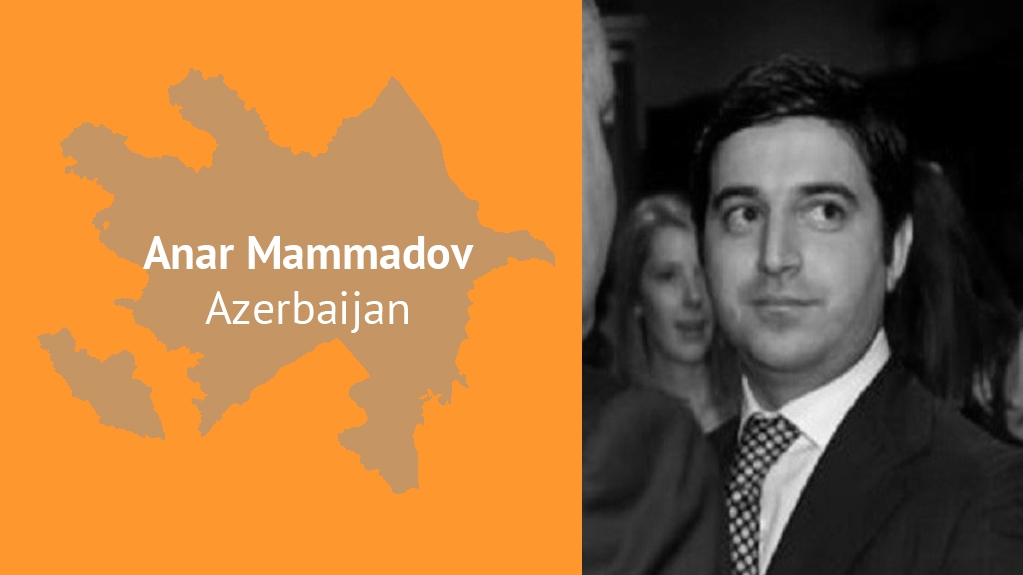 "Anar Mammadov is the son of ex-Minister of Transport Ziya Mammadov. His father is a former oligarch himself, who accumulated his wealth through corruption and ties with Azerbaijan's elite. After getting on the wrong side of the ruling family, he lost much of his business in Azerbaijan, which included various taxi and bus companies. Using his father's money, Anar set up a lobby firm in Washington, DC to promote the interests of the Azerbaijani government in the US Congress and Senate. He paid the US lobby company Fabiani & Co to support him. I reported on this in a story published by Europe without Political Prisoners. When I went into the office of Fabiani & Co to ask about Anar, they pretended they didn't know much about him, even though he actually hired them. I understood that there really is something at the end of the story and got even more motivated to get to the bottom of it."
Arzu Geybullayeva is an Azerbaijani freelance journalist for several newspapers and media news outlets including Al Jazeera, Foreign Policy, Global Voices. She is based in Turkey and is the author of the popular blog on Azerbaijani politics Flying Carpets and Broken Pipelines.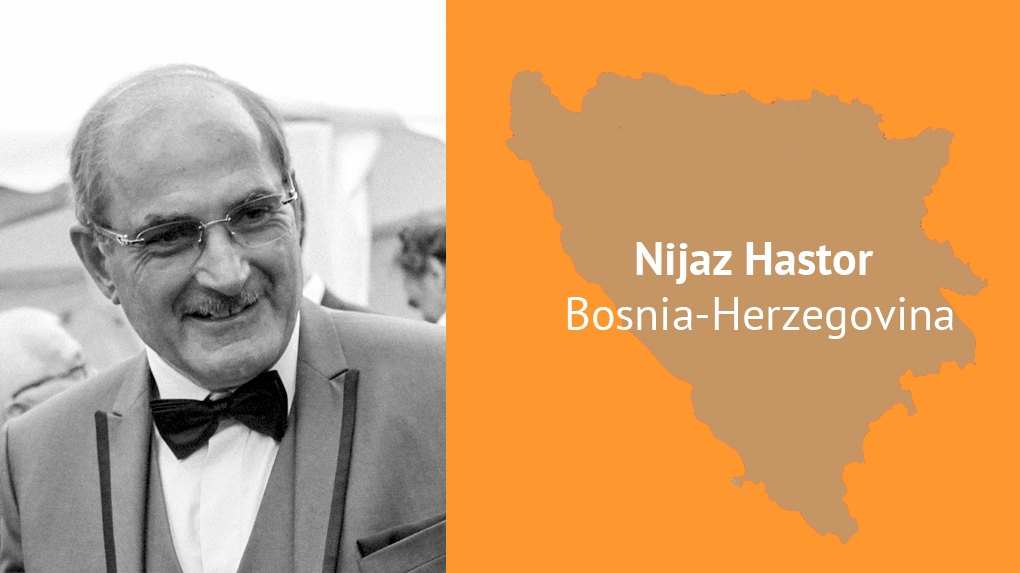 "Nijaz Hastor worked his way up from a poor village without electricity and running water to the biggest tycoon in Bosnia-Herzegovina. His company "ASA Prevent" is the largest private employer in his home country. Hastor is very popular, because he awards scholarships to children from poor families. He also financed the rebuilding of the mosque in his home village after the war. A long time ago, there was a lawsuit against Hastor and his former business partner: They were suspected to have bought a flat for the former Bosnian member of the presidency, Alija Izetbegovic – as a bribe to get a permission to build their factories in free-trade zones. But as many other things in Bosnia-Herzegovina, the case was not investigated properly and Nijaz Hastor is still known as a respectable businessmen in his home country."
Krsto Lazarevic investigated the Hastor family and ASA Prevent for the German economic weekly Wirtschaftswoche.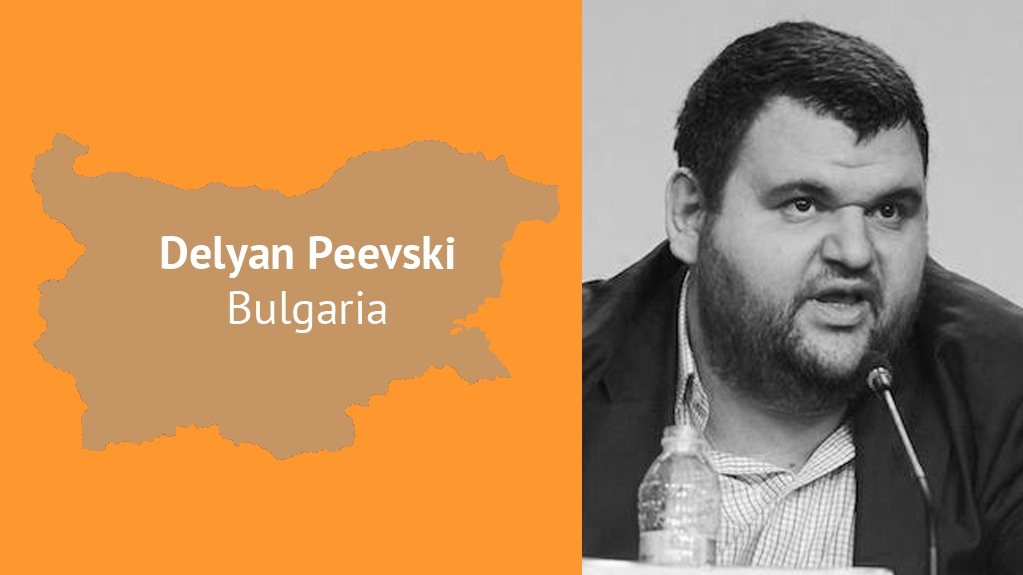 "Delyan Peevski is an MP in the Bulgarian parliament from the Movement for Rights and Freedoms (MRF) group, the so called "Turkish minority party". But he is rarely seen at his parliamentary desk. Delyan Peevski is obviously not just any parliamentarian. He is now officially the wealthiest Bulgarian politician. For a long time he was hiding his economic interests behind offshores, officially declaring only one old Opel car. His assets are evaluated at more than $1 billion. Peevski's power is based on his control over the media and his influence inside the judicial system. We have been reporting on his wealth and shady ownership for years, while being smeared and attacked by his media empire and the institutions he controls."
Atanas Tchobanov is an editor and co-founder at Bivol.bg, an investigative journalism platform, aimed at investigating corruption and organized crime issues mainly in Bulgaria. He also participates in trans-border investigations alongside the partners from OCCRP and n-vestigate.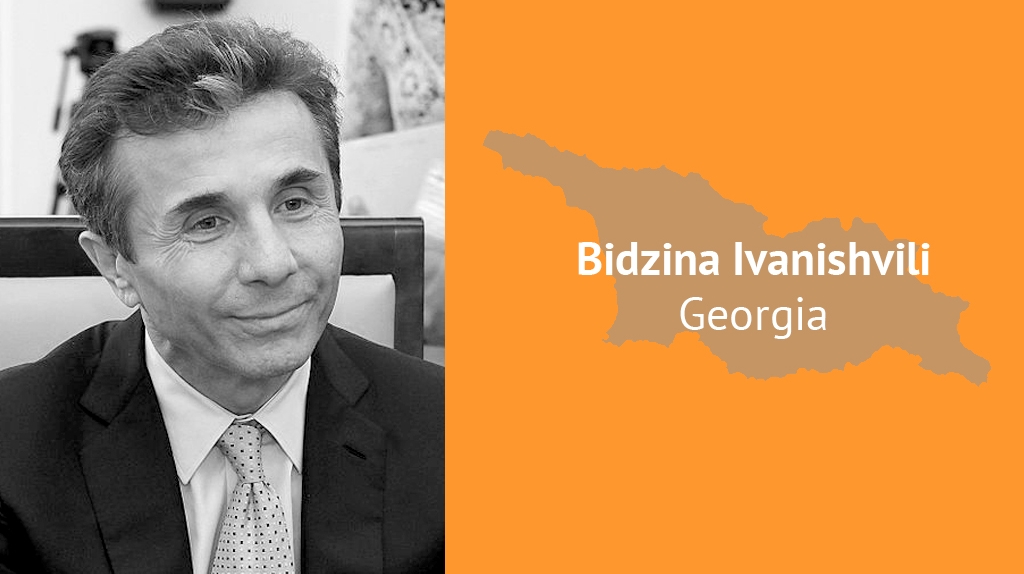 "Bidzina Ivanishvili is believed to be the first Georgian billionaire who owns $4.5 billion. Forbes puts him on the 367th place worldwide. He made his fortune in Russia and appeared in Georgia as a charitable person, being in the public eye for years before entering the political field in 2011, when he founded the "Georgian Dream" political party, defeated the ruling camp in the parliamentary election and became Prime Minister of Georgia. A year later, after his preferred candidate won the presidential elections, he left the scene, but is believed to rule the country from the "back stage" since then. Not only was Ivanishvili's name mentioned in Panama Papers, but he is also famous for his eccentricity: he owns a private zoo with penguins, lemurs, and a zebra, and is moving centenarian trees from different regions into his park over sea."
Tskriala Shermadini is a georgian investigative journalist that works for Studio Monitor.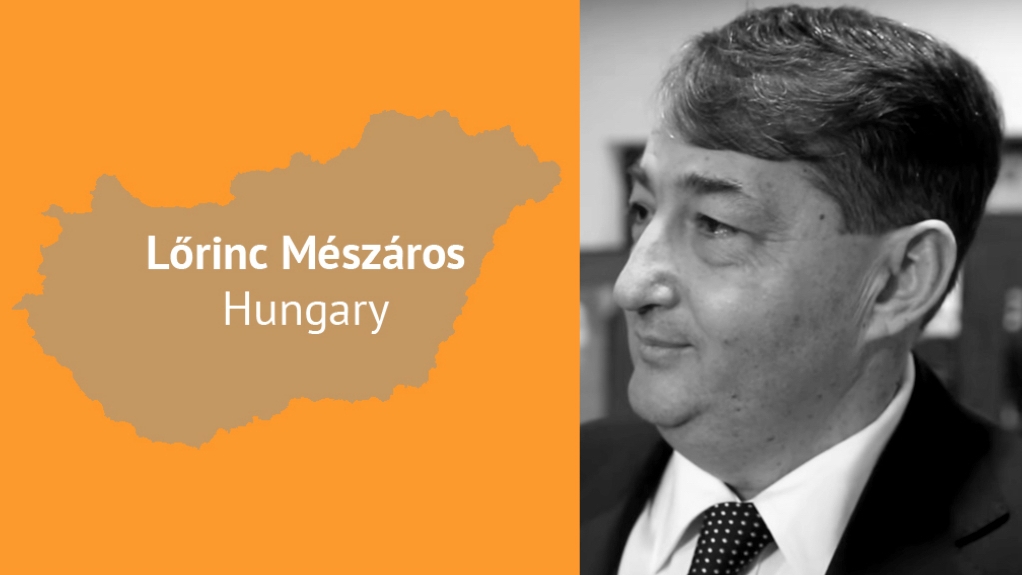 "In the early 90s, Lőrinc Mészáros started a successful gas fitting business in the village of Felcsút. Seven years ago, he wasn't a famous man, but he already had a famous friend – the Hungarian prime minister Viktor Orbán. Mészáros was elected mayor of Felcsút in 2011 and since then became one of the richest people in Hungary. He has interests in more than 200 companies, he owns two football teams, and won countless public procurements, which are mostly funded by the EU. Mészáros, now an oligarch, also shaped the image of the Hungarian media: one of his companies was involved in the shutting down of Népszabadság, one of the oldest daily newspapers in Hungary, and more recently he bought the majority of the regional newspapers to make them more government friendly."
Ildiko Kovács is a journalist at 24.hu with ten years of experience behind her. Previously, she collaborated with the Hungarian Watchdog NGO and investigative journalism outlet atlatszo.hu.
"Blerim Devolli is only 45 years old, but he can be freely described as Kosovo's oligarch of politics. He was born in Peja, a border town of Kosovo, and owns the company "Devolli Grup" that was started in 1990 as a small business by his father, when Kosovo was still under Slobodan Milosevic's regime. Since then, Blerim and his younger brother Shkëlqim, have raised an economic activity ranging from flour sales to beer industry, from homologation of imported cars to customs terminals, from privatization of old factories to coffee importation. During campaign season, Devolli's companies are donors to almost all Kosovar political parties, but the strongest ties of him have been constantly with PDK, president Hashim Thaçi's party. Devolli also owns a yacht that parks on the sea coast in Montenegro owned by Milo Đukanović."
Visar Duriqi is an investigative journalist from Kosovo. Since 2009 he reports on economy, corruption, health system, and religious extremists groups. Currently he works for "Gazeta Express", the biggest local news portal, and produces investigative documentaries for the "Zona Express" TV show.
"Aivars Lembergs is the only oligarch who maintained its influence from the so called "three A" group (including Ainārs Šlesers and Andris Šķēle), which was active until the dissolution of parliament in Latvia, initiated by the former president Valdis Zatlers, in 2011. He is also the mayor of the city of Ventspils since 1988. In 2007 he has been formally suspended from duty in connection with the alleged criminal process of illegal privatization, bribery, money laundering and forgery. But in 2017 he was elected again. Lembergs is abusing his position to create a business environment for his offshore companies. His family's fortune is estimated at 120 million euros."
Maria Kugel is a freelance correspondent for Radio Svoboda in Latvia and Estonia since 2014. She also collaborates with the Latvian national information agency LETA and the Internet publication "Novaya Gazeta Baltia".
"According to Forbes Magazine the Macedonian Oligarch Jordan (Orce) Kamchev is the richest man in Macedonia with a net worth of 228 million euros. He owns construction companies, banks, private hospitals, three of the biggest newspapers in Macedonia and much more. Moreover, he had tight bounds to the former chief of the Macedonian secret services, Saso Mijalkov, who is also the first cousin of Macedonian former prime minister Nikola Gruevski. Both of them are under suspicion for corruption and illegal mass surveillance in Macedonia. But Kamchev also has very good contacts outside Macedonia. He is connected to the Russian oligarch Sergey Samsonenko and Great Britain's former Prime Minister David Cameron."
Goran Lefkov is an investigative journalist at the Center for Investigative Journalism SCOOP-Macedonia.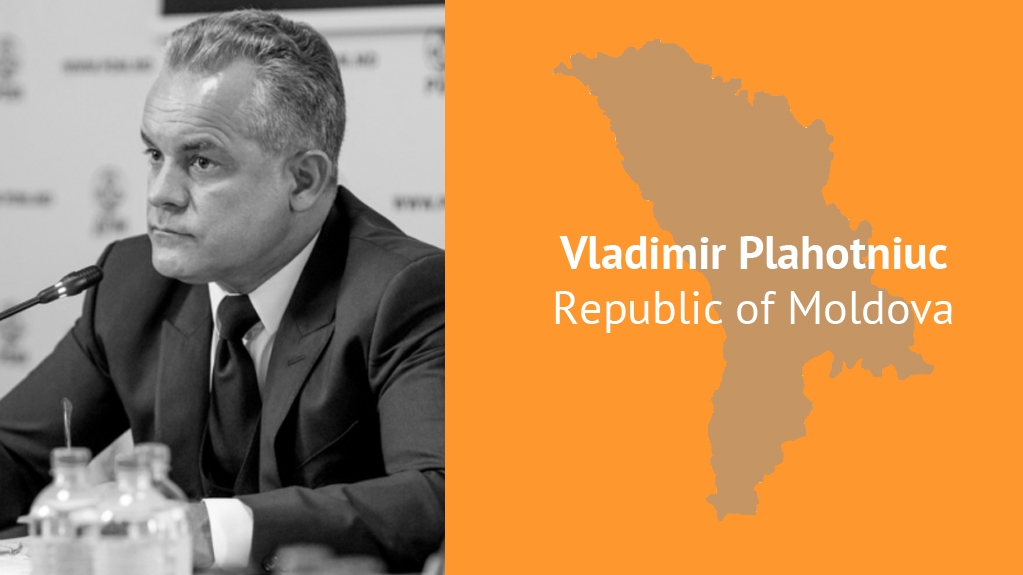 "Vlad Plahotniuc holds a public function that he made up for himself – coordinator of the ruling Alliance. He managed to capture most of the state institutions. He has built around him a shady financial empire and hired a bunch of experts to work on all sorts of schemes and to draft laws. Plahotniuc created a media trust that often operates with false news, aimed at denigrating political opponents. On social networks, he has set up a real 'troll army'. Its main goal is to create him the image of a businessman, philanthropist, diplomat, good governor, etc. His tactic is to subordinate people who are standing in his way through blackmail and pressure. The Democratic Party, which he runs, manages huge amounts of money gathered from dubious donations. Plahotniuc's stake is the 2018 election, when he hopes to gather a majority in the Parliament to legitimize his government."
Cornelia Cozonac is the president and one of the founders of the Center for Investigative Journalism, the first online platform for reporting cases of corruption and related crimes in the Republic of Moldova. She has been working in journalism for over twenty years.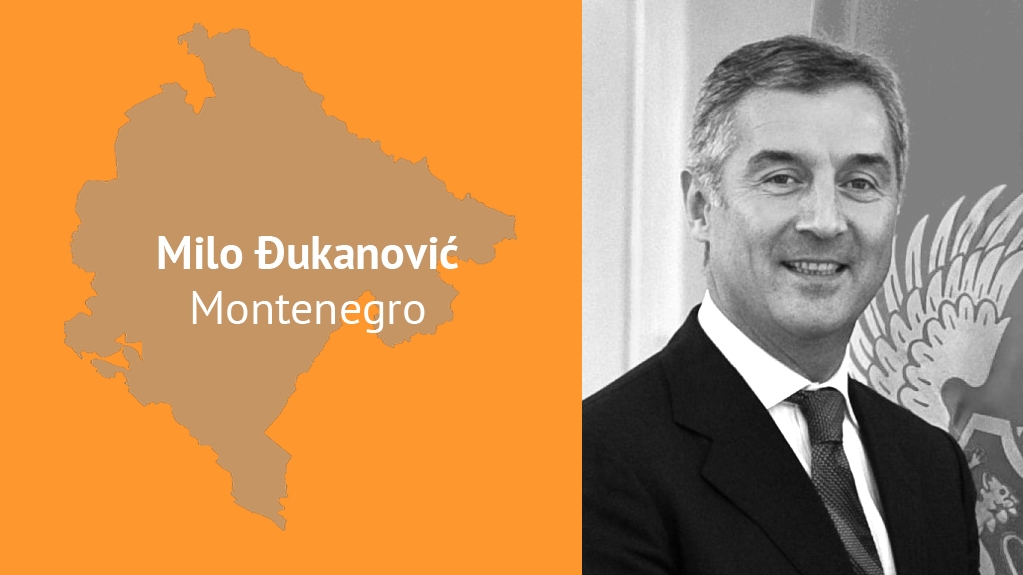 "Milo Đukanović is the former Prime Minister and President of the State, leader of the ruling Democratic Party of Socialists. Also, he is the most powerful politician in Montenegro associated with powerful businessmen who gained wealth during his rule. His brother built a business empire for years while Đukanović was the head of state and his sister is a very influential attorney. He is one of the rare politicians in the Balkans from the time of communism who is still firmly controlling power. Milo Đukanović criticizes the NGO sector and the independent journalists, which write about his activities. And, after that, they were victims of a physical attacks or public embarrassment by those who support Đukanović."
Mila Radulovic is the editor of the daily newspaper Vijesti in Podgorica and general secretary of Montenegro Association of professional journalists.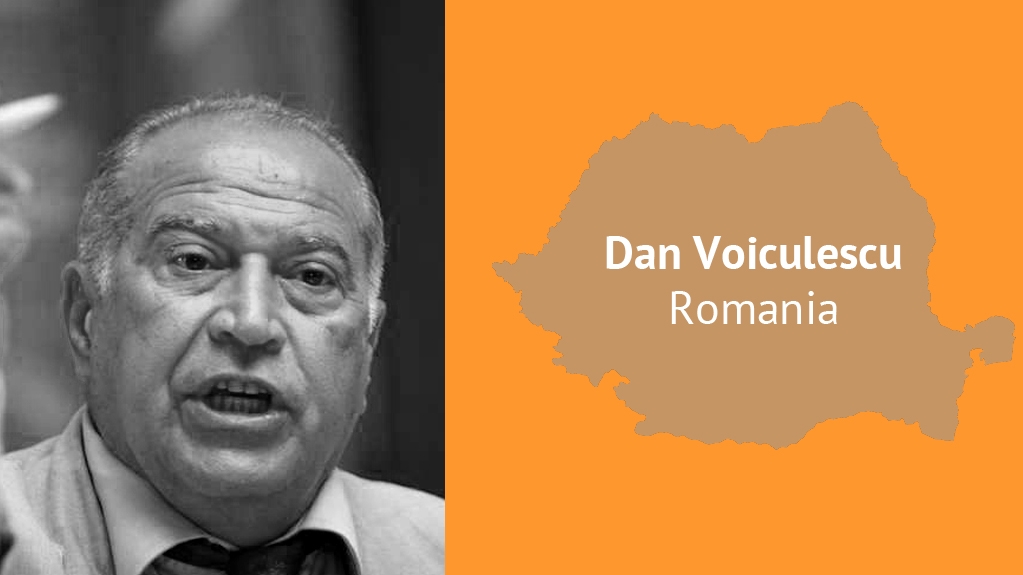 "Defined as "tycoons" in the West or "oligarchs" in the East, Romania had "moguls". Nowadays, due to a strong fight against corruption, they are less influential than a decade ago. Most of them were related to communist nomenclature and secret services. One of the best examples is Dan Voiculescu, the owner of Intact Group, which has several media outlets including TV stations, radio stations, newspapers and news websites. In 2009, his wealth was estimated around 1,5 billion euros. Before he was sentenced to ten years of jail on corruption and illegal privatization charges in 2014, Voiculescu had an estimated fortune of circa 250 million euros. All of his business is conducted through proxies and family members. Voiculescu still is a media mogul very implicated in politics. He operates through his so-called journalists, but in fact, many of them are just "press mercenaries".
Mădălin Necșuțu is a Romanian foreign affairs and investigative reporter, based in Chisinau with "Evenimentul Zilei" (Romanian Daily Newspaper) and correspondent for "Balkan Insight".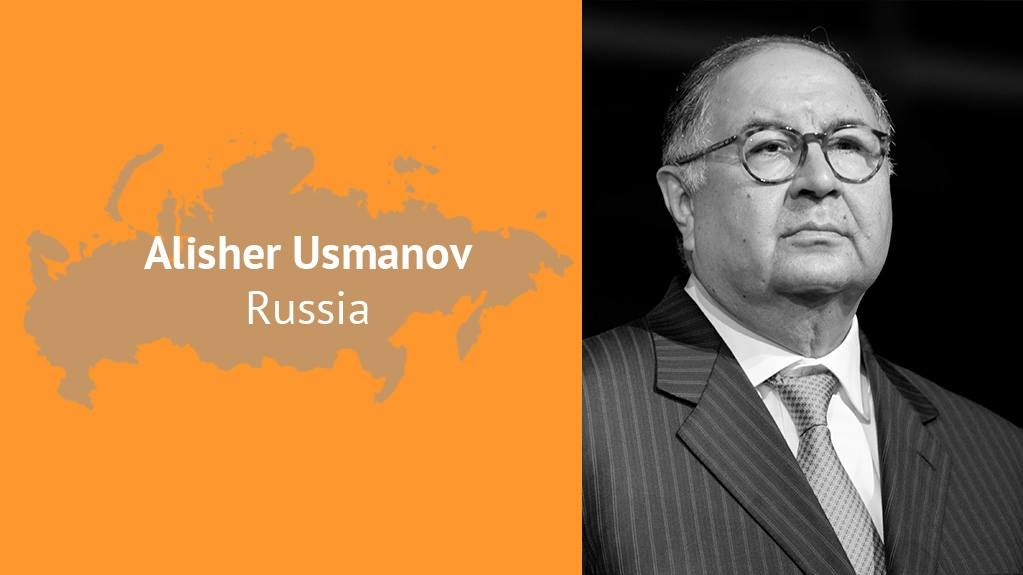 Alisher Usmanov is the 5th richest man in Russia (a couple of years ago he was #1) and is worth $15,2 billion. Forbes 100 is not the only famous list he's on: he also featured prominently in the Panama and Paradise papers ‒ like most Russia's super-rich, he keeps his money offshore. He got rich in the early 90s through mining business, and is now one of the chief advisors in Gazprom, Russia's state gas monopoly. He also holds many shares in the country's media, and is very close to Putin and Medvedev. This year, the Anti-Corruption Foundation accused him of gifting a luxurious palace to Dminriy Medvedev ‒ essentially, bribing the Prime Minister.
Daria Sukharchuk is a Berlin-based Russian freelance journalist.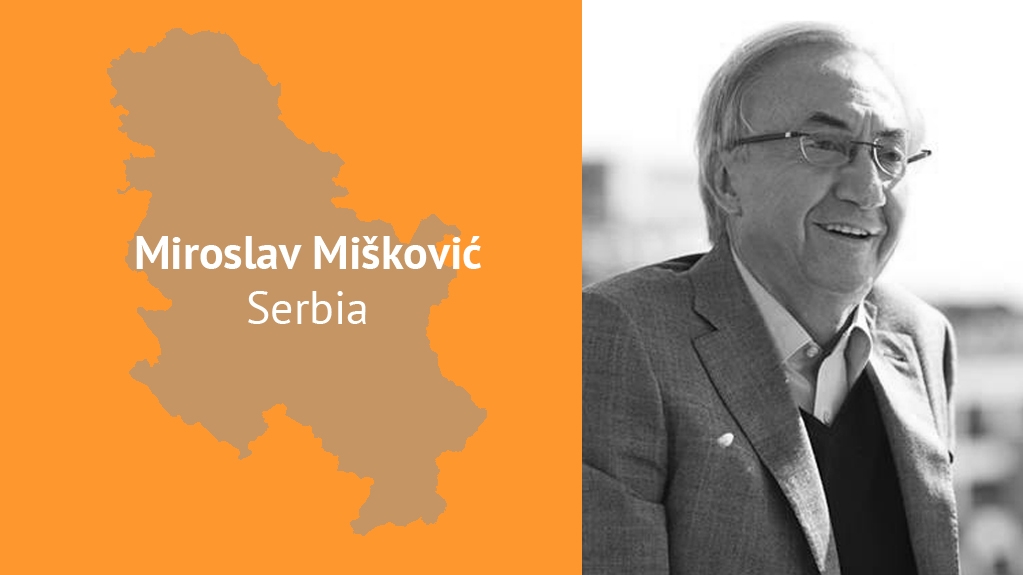 "Miroslav Mišković was the first Serb to make the Forbes' list of world's billionaires. His Delta Company became successful under the rule of Slobodan Milosevic during the 1990s, when the regime was funneling billions of dollars from the national budget to accounts in Cyprus. He expanded his business empire after Milosevic's fall in 2000, buying companies and real estate with offshore money. Mišković was detained on suspicion of financial abuses in what was announced as a radical break with corruption in 2012. However, in 2017 he was cleard of abuse of office charges and sent for a retrial on tax evasion charges. His affairs feature prominently in the landmark investigations done by Insajder and the Centre for investigation Journalism of Serbia."
Filip Rudic is a correspondent for the Balkan Investigative Reporting Network'sflagship website Balkan Insight and BIRN's Transitional Justice programme.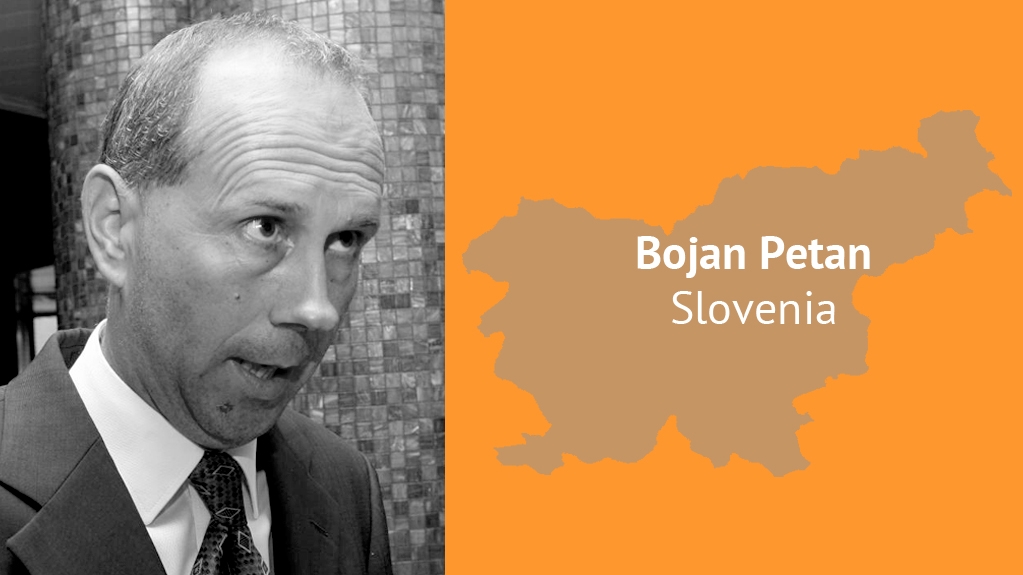 "Bojan Petan's financial holding DZS is a safe haven for former spies. Sebastjan Selan, former director of the Slovenian main intelligence agency Sova is one of his main operatives today. Petan's real influence is so high that even the Central Bank of Slovenia helped him during negotiations with private banks about the repayment of his debts. Criminal cases against Petan for abuse of trust and office with dozens of millions euros of illicit gains in Slovenia and for organized crime and money laundering in Bosnia and Herzegovina are still pending, but his real influence seems to be untouched."
Blaž Zgaga is a freelance investigative journalist and co-author of the best-selling trilogy "In the Name of the State", which explores arms smuggling in the Balkans during the conflicts of the 1990s. In May 2014, his name was in the ranking of "100 Information Heroes", compiled by Reporters without Borders.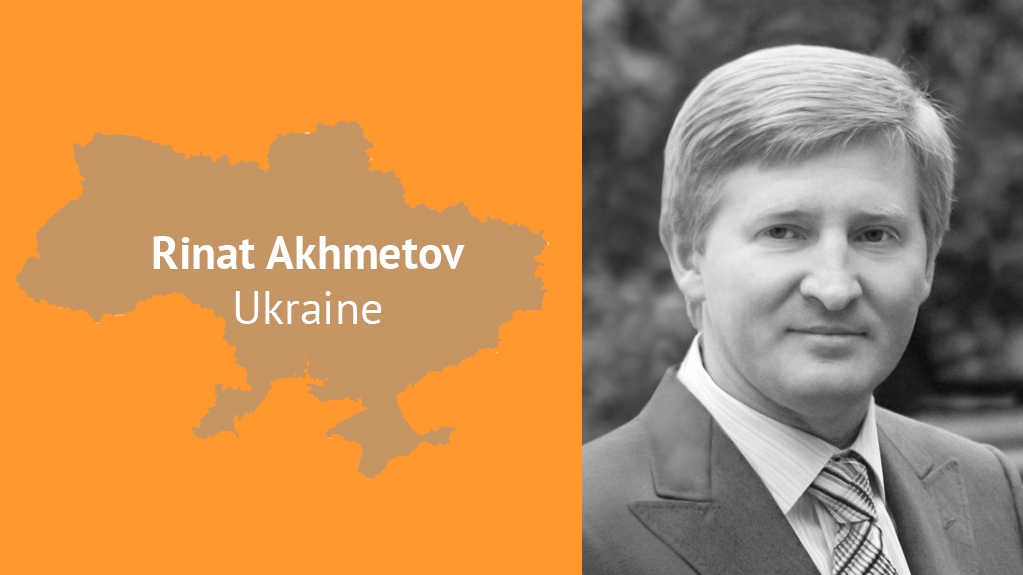 "With a fortune of $6.9 billion, Rinat Akhmetov remains Ukraine's richest man. Having obtained most of his assets in the energy sector through uncompetitive privatization auctions, he is a typical example of an oligarch who capitalizes on proximity to the government. After the energy regulator introduced a special coal tariff in 2016 for Ukrainians to pay in their electricity bills, Akhmetov is well positioned to keep growing his empire. With direct links to several prominent politicians, Ukraine's top businessman has an ear of the country's political leadership including president Petro Poroshenko. After I reported on how Akhmetov benefits from a special coal tariff, the anti-corruption bureau launched an investigation of the deal. Writing about a man, who owns massive assets in energy, steel and media sectors, taught me one simple thing: it's too early for Ukrainian tycoons to think of business as a commercial activity. For them, it's also a political one.
Source: ostpol.de
Authors: Natalia Sergheev & Christian-Zsolt Varga