Event "Days of Srpska in Serbia" opened at the National Theater in Belgrade Wednesday evening, with playing national anthems of Republika Srpska and Serbia in the presence of Srpska and Serbia's officials.
Scientific, cultural and artistic institutions from all parts of Srpska will be presented in several cities of Serbia over the next seven days, with the performance by independent artists, actors and writers.
Serb member of the BiH Presidency Milorad Dodik has asked while opening the event " Days of Srpska in Serbia" on Wednesday evening in Belgrade, for support for his initiative to call this event "Days of Srpska and Serbia" in the future instead of "Days of Srpska in Serbia", since such unity must be fostered.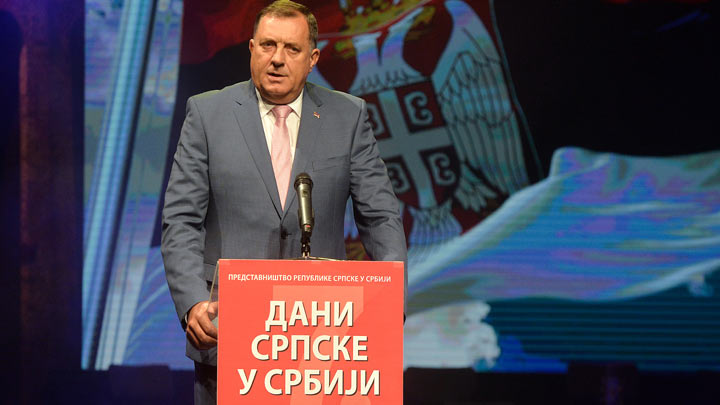 "We are part of one nation, culture, religion, a closeness that many of us seem to know, but it is never enough to get to know and learn more about each other, which is the point of these days and our arrival from Srpska to Serbia," said Dodik.
According to him, Serbs are one and will always be one.
"Nothing can stop us, not even severe political conflicts we have been dealing with in Srpska in an almost hostile environment for nearly twenty years, fighting for our political status, the autonomy we have won," he added.
He stated that the people who sacrificed themselves during the civil war in BiH had sufficient awareness to preserve political autonomy in Republika Srpska, and that there were few peoples in general, not only in the region, but world-wide, who could withstand torture and pressure from an international factor.
Dodik said that the international factor was to undo Dayton's political achievement, violating the basic values of the treaty, trying to make a unitary BiH, with no place for Serbs.
"The Serbs have learned that only fighting for freedom means fighting for the state, since there has never even been freedom for us where we didn't have a state," Dodik said.
He stated that the status of the Serb people in the countries of the former Yugoslavia – Slovenia, Croatia, the Federation of BiH, unfortunately Montenegro as well, is the best indicator for aforementioned, not to mention Kosovo and Metohija, including North Macedonia.
"Anywhere where the Serbs have failed to constitute their historic efforts and preserve themselves, their freedom is threatened," Dodik said.
He states that Republika Srpska is now a free community of the Serb people and others who want to live freely in it.
"We show it and today we are the only sustainable community in BiH, we are the only that could continue on our own, since everything that is in BiH cannot exist, neither BiH, nor the FBiH, nor the cantons. Republika Srpska has everything," said Dodik.
He added that Republika Srpska has a territory, a nation willing to have the state, has the authority elected by its people and all the criteria required for international verification of the state status, except the will of the great powers.
"But the will can be changeable thus we must be patient, with a desire to achieve the goal that is undoubtedly in the souls of all our people, which is unity with Serbia in every sense," Dodik said.
He states that Srpska is looking at Serbia, which is clearly doing well and taking good course under the leadership of its president, Aleksandar Vučić, to whom he thanked for the attention he is paying to Srpska and the assistance he has been selflessly giving these days, as well as care to preserve the basic things in Republika Srpska.
Noting that Serbia has many open needs across Srpska, Dodik stated that Vučić wanted and succeeded together with Srpska, to implement the projects in each Republika Srpska municipality financed from the Serbian budget.
"We witness the implementation of projects in all of 63 municipalities in Srpska and four Serb-populated municipalities in the FBiH, that will be completed shortly and I have to thank for that," Dodik said.
He added that Srpska believes that only a strong Serbia can strongly help it, Serbia that is being built, and where the dynamics are seen at every turn.
"It makes me happy because I know that only a stable and strong Serbia guarantees the freedom of all Serbs wherever they are. This event has proven to be a place of gathering, emotions, where we meet to conclude that we were here last year and the previous seven years." said Dodik.
The event, organised by the Republika Srpska Representative Office in Serbia, is attended by Republika Srpska Prime Minister Radovan Višković, Minister of Spatial Planning, Civil Engineering and Ecology Srebrenka Golić, Minister of Education and Culture Natalija Trivić and Minister of Economy and Entrepreneurship Vjekoslav Petričević and Police Director Darko Ćulum.
Serbian Minister of Defence Aleksandar Vulin and Minister of Labour, Employment, Veterans and Social Policy Zoran Djordjević are also attending the opening of "Srpska Days in Serbia" event.
Representatives of the Serbian Orthodox Church, members of the diplomatic corps, members of the Serbian Academy of Sciences and Arts and the Academy of Sciences and Arts of Republika Srpska, generals of the army and police, prominent artists, scientists, athletes are also in attendance.
This event, which annually presents the culture, art, science, education and economy of Republika Srpska to the citizens of Serbia through interesting programmes, will have 24 programmes this year in more than 30 performances in 21 cities and municipalities in Serbia – from Subotica to Vranje, from Užice to Vršac.
Source: srna