BiH Presidency Chair Milorad Dodik stated Tuesday in Istocno Sarajevo Bosnia and Herzegovina is facing great challenges ahead and that Republika Srpska does not want anything but to defend its constitutional position, which is clearly defined by the Dayton Peace Agreement.
"We are sticking to the treaty and believe that all civilised, democratic countries have to respect their own highest acts," Dodik told the press at an Orthodox Christmas reception in central Republika Srpska.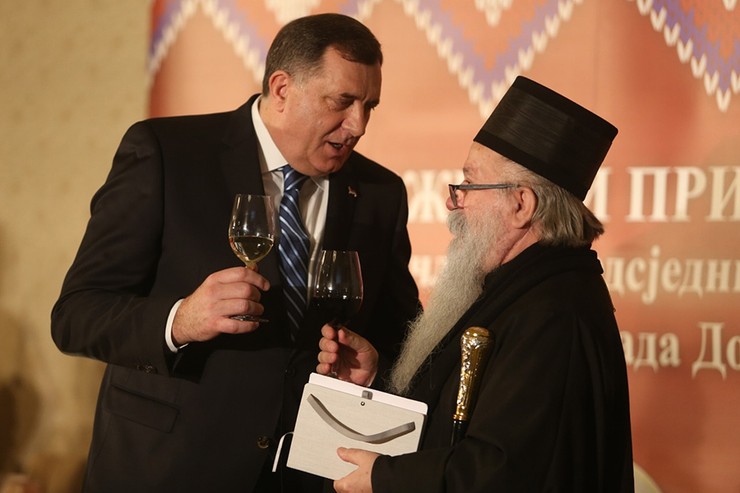 He recalled that the BiH Constitution stipulates the powers for BiH explicitly provided by the Constitution and that there is no other way for BiH to have competences.
"Practice has created something else in BiH and we must pursue our political and every other activity against such awkward practice and solutions imposed by the High Representative," said Dodik.
Republika Srpska was brought into a position of being accused of obstruction without any reason whatsoever, he said.
"Republika Srpska implemented its election results, formed its institutions and all necessary bodies to allow for the formation of the BiH bodies," said Dodik, adding that the obstruction of the formation of government coming from the State level was very bad.
The BiH Presidency Chair emphasised he hosted the Christmas reception to show the assembly of Serbs, their commitment to peace and stabilisation, commitment to good relations with people and everything that the holidays meant to almost all religions and peoples living in BiH.
"Republika Srpska recently celebrated its Day and no one should doubt it will keep doing so. It is not against anyone and it is not supposed to provoke any negative emotions. It is our holiday and we are entitled to celebrating it," said Dodik.
He denied stories that it was an unconstitutional holiday and pointed out that the law was passed defining that January 9 was the Day of Republika Srpska.
"I regret that it caused so much turmoil and believe it is not a good message to our overall good relations in BiH," he said.
The reception was attended by President of Republika Srpska Zeljka Cvijanovic, National Assembly Speaker Nedeljko Cubrilovic, Prime Minister Radovan Viskovic, and Metropolitan Hrizostom of Dabar-Bosnia.
In attendance were also representatives of Srpska institutions, local communities, BiH institutions, including the Chair of the BiH House of Representatives Borjana Kristo, Ministers Marina Pendes and Vjekoslav Bevanda, as well as the leader of the Jewish Community, Jakob Finci.
#NewsFromTheRepublicOfSrpska
Source: srna