President of Republika Srpska Milorad Dodik visited the Hilandar Monastery on Mount Athos, where he has been received by Prior Metodije. The Government of the Republic of Srpska paid 100,000 KM to help the monastery Hilandar, to repair the damage this monastery suffered due to the severe storm of the previous days.
Dodik gave the book History of Republika Srpska as a present to Prior Metodije.

Prior Metodije informed the Srpska president of the reconstruction of a burnt part of the monastery, 80 per cent of which has been finished, as well as the works on the local infrastructure, roads and other structures damaged over time.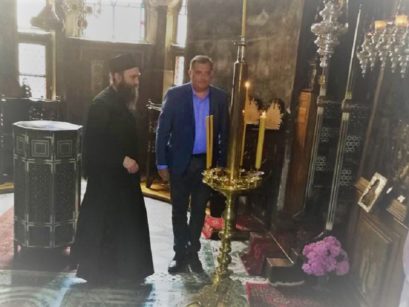 Hilandar, which was established in the 12th century, is one of the most significant centres of Serbian culture and spirituality, where one of the richest collections of original old manuscripts, icons and frescoes is held.
It was built on the ruins of an old monastery in 1198 by monks of outstanding reputation, the former Grand Prince Stefan Nemanja and his youngest son Rastko, who created an independent medieval state and autocephalous Serbian church.
In Serbia's long history, the monastery's monks played a significant role as the ties between the monastery and the motherland remained permanent.
The holy Serbian laura of Hilandar remains an important place of pilgrimage and the richest treasure trove and an archive of medieval Serbian heritage. The monastery has been inhabited constantly since the 12th century and now has more than 50 monks.
Source: srna