"I announce that by the end of the year, there will be 3-4 more countries that will do the same," says Dacic.
Foreign Minister Ivica Dacic says Ghana is the 16th state to withdraw its recognition of so-called Kosovo.
He said the official note arrived over the weekend and that this country's leaders told him they would respect UN Security Council Resolution 1244, but also the dialogue between Belgrade Pristina when it resumes.
"This is another indicator that we are working on this topic seriously, with the approval of the president of the Republic, we are demonstrating that this issue has not been resolved and I announce that by the end of the year, there will be 3-4 more countries that will do the same," Dacic told Prva TV.
He said that this is the largest country to withdraw its recognition of Kosovo far, that is has a population of 30 million and is three times larger than Serbia. He recalled that talks with Ghana lasted a long time, that discussions were held at all levels with the president of Serbia, the speaker of parliament and himself, as the foreign minister, all speaking with representatives of that country.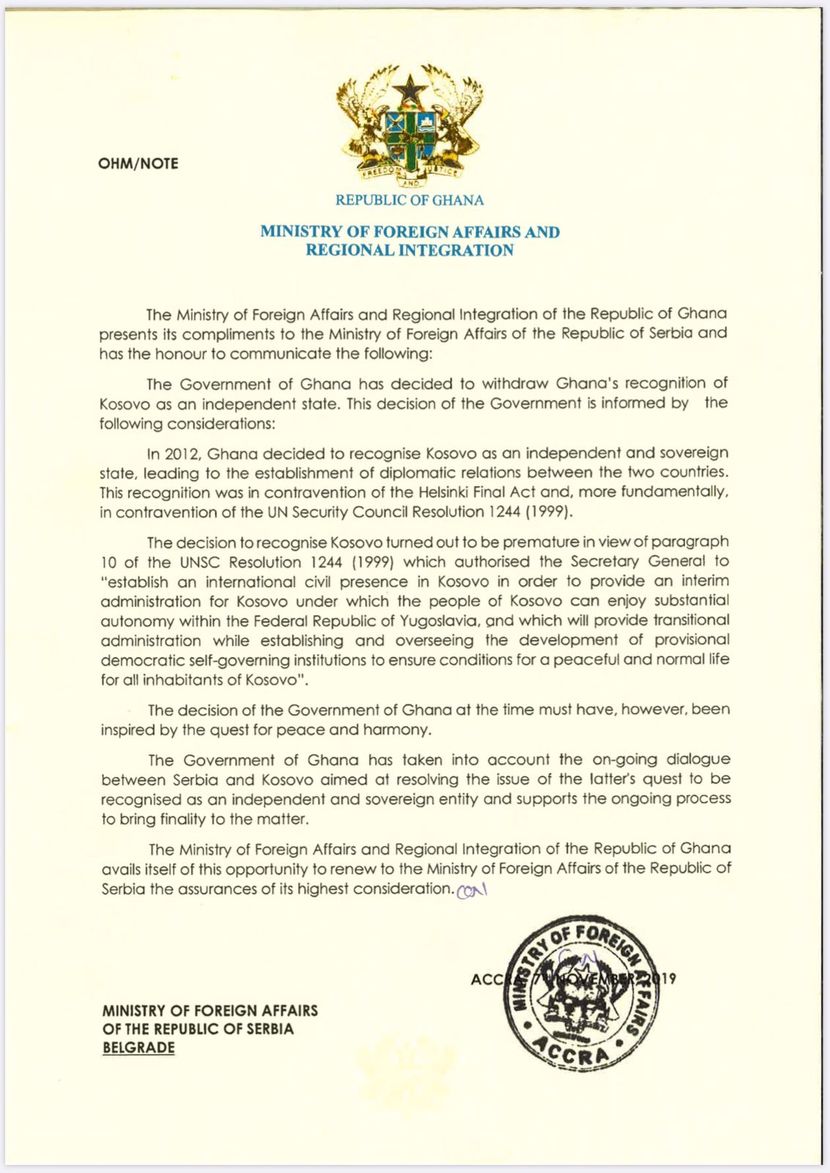 "Ghana is a serious country and the note they wrote is better than it would have been if we wrote it. The second sentence states that Ghana has decided to withdraw recognition of Kosovo, that it considers the decision of the previous government of Ghana to recognize Kosovo as an independent wrong and a violation of the Helsinki Charter and (UN Security Council) Resolution 1244, and that they will respect the results of the dialogue," Dacic said.
He emphasized that Ghana is one of the important countries of Africa.
"I will remind you that Pristina officials were chasing them down UN corridors, even announcing on Facebook that they had a meeting," Dacic said.
Ghana is the 16th country to withdraw its recongition over the past two years. So far, others who have done so include Lesotho, Papua New Guinea, Burundi, the Comorro Union, Guinea-Bissau, Sao Tome and Principle, Madagascar, Liberia, Grenada, Palau, the Commonwealth  of Dominica, Solomon Islands, the Central African Republic, and Togo.
Source: telegraf.rs