Break the narrow perspective and find your business niche
You live in Aberdeen, yet all of a sudden you decide to become an entrepreneur in Serbia. Strange? Not for three Scotsmen who moved to Novi Sad, bought Salaš 190 in Čenej, launched the production of Scotts Cider, the first Serbian-made cider, and found their home there. We are talking to Oliver Hougham, one of the three pioneers, to ask him about their story and future plans, which, we should be aware, include some craft beers at a place called Beeraj!
So, the first question should naturally be – how did it all start? I mean, you were sitting somewhere in Aberdeen and all of a sudden you decided to come to an Eastern European country to start making cider, and everything that followed.
Well, the whole idea was not actually from Aberdeen but from Ljubovija, on the Drina. My father was hosting refugees in Aberdeen. They were from Sarajevo. And in 1998 he came to Ljubovija, where they relocated and opened a shop there. The reason was the huge unemployment in Ljubovija at the time. So I was actually sitting in Ljubovija and I started to think about Serbian production and what could be done with it. I noticed that you had all the raspberries here and nobody was doing anything with them. Then I started to think about how to commercialise Serbian produce. And then, from 2004 to 2006, I started hosting Exit festival guests, and by 2007 the number of Exit guests had risen exponentially and there were some 14,000 British people here in Novi Sad, so I decided that I had to offer them something of Serbian produce. Just these 14 thousand here represented a huge market, but there were also festivals popping up around the former Yugoslavia, with Croatia representing the biggest market. Soon, in 2008, I decide to start a company and the whole initial concept was making cider for festivals. We named it Scotts Cider, because of our Scottish ancestry and because the three of us, all Scotsmen, started the story.
Your move appears to be quite similar to the entrepreneurial spirit of the British people who, say, went to Ceylon, Kenya or India and set up businesses. That is deeply rooted in the British mentality, right? And not only British! When the Austrian Empire conquered new territories, the Germans and Czechs brought their brewing traditions from Austria and Bohemia, like Zoffmann or Weifert. In Bosnia, after the Turks left, the Austrians founded the Sarajevo and Banjaluka Breweries. Is it natural to move from a richer country to a poorer one, albeit with a formula and a clear business model for the product lacking on the market?
It is always easier for people from the outside to see the potential than it is for people from here. That applies to any country. It is just that you don't see inwards from the inside. So I established myself here, but a few years later I decide to go a step further. We recognised the potential, but we were later bullied out of the major Croatian festival where we had strongholds by big cider companies. Simply, they offered sponsorships and the festival accepted it and we were out. But we had some exclusive rights for some festivals – the Dimension Festival in Pula, Outlook Festival, in some years from 2008 to 2012, and everything was good. We were doing great, selling some 14,000 litres in a couple of days. But we could not pay as much as the big brands, so we had to go. Then in 2012 we tried at the Exit Festival. Bojan Bošković gave us a chance in his last year, 2012. And after 2012 we approached the domestic market and diversified our portfolio by adding apple juice. So, with these two products we are trying to do our best, but as one of the few microbreweries in Serbia, which has a monopolised market, it is hard. We were one of the first, and unfortunately the Serbian market was not ready for cider anyway. So we did it for three years and after that we decided we should go back to contract work and exports. We have now been bullied out of the Serbian market. The pressure on microbreweries it strong; the market has been monopolised in a way that many clubs have to buy exclusively from the big players. But now there is a growing number of freehouses, as we call them in the UK, which are pubs and restaurants that can buy freely from anyone as they are not contracted. There are some 30 freehouses here now, which sell craft beer and domestically produced beer or cider. Now this has opened up and there is an opportunity for profit, and lots of microbreweries are now operating. So the whole scene has changed, both for the consumers and the producers. There are associations being built and they are now active at all levels.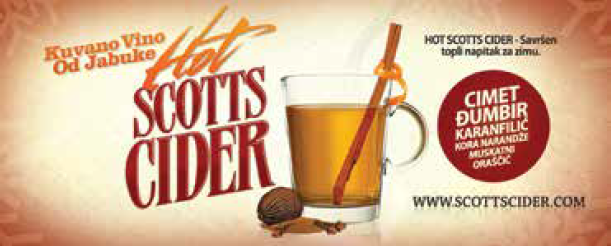 It is really impressive. But also I noticed a change in the behaviour of pubs. For example, I was walking down the street and there was a place advertising music, food and, in huge letters, CRAFT BEER! It now seems to be very important to mention that you have craft beer. It is time for action, right?
It is huge now, yes. There is a huge market out there. And the most interesting is the American market. Last year craft beer took a seven per cent market share and this seven per cent of consumption employed 50 per cent of all employees in the beer industry in the States.
And there is a question of uniqueness. Let's say, I go to a place where there are only major known brands. So I have tasted it. No challenge, but if I really want to drink beer I will buy it. However, if, for example, I am with my girlfriend who does not drink beer and you say that you have a few brands of craft beer, that is tempting. Now everybody wants to taste it, to feel something new. And there is a feeling that you are special, so every time someone opens the bottle or gets a pint, it feels like there were some people really making an effort to prepare it. It was not made by a robot or on a conveyer belt. The feeling that it was hand-made is great.
Yes, but also microbreweries are not an easy business niche. There has to be passion in it; there has to be love in it. In most cases these are the second jobs and the third jobs for these people operating microbreweries. So you have to be passionate about preparing it, and the people consuming it also must feel special about it. As you told me, in art, people don't want .pdf catalogues, they want paper ones. They hold them in their hands and they feel special because it is limited. It is identity that now matters. And that's why the growth of microbreweries in Serbia will be exponential. But how many of them are really successful and how many of them are working from the heart? That is yet to be seen. But what the guys in Serbia are doing now is diversifying. It is not all California-styled, or not all Indian pale ales. Do you know that the hop is just a flavour preservative? Barley is important, but hops were only added to preserve the flavour during long journeys. So, the Brits added hops just to preserve the beer during voyages to British India, where thousands of civil and military personnel lived and needed beer, so that is why this kind of ale is called Indian Pale Ale. So the scene is diversifying, everyone is trying to find a new style and a new niche, so what we started here at Beeraj, where we sell craft beers, is a concept I kind of wanted from the start for cider: "try before you buy". It is concept that the beer and wine and cider industries will have to embrace. When you walk into a pub and want to order a pint of beer, you know what the big brands taste like, and if you have to order a new craft beer, which is far more expensive, you will be reluctant. So the people are often scared by the price and so they choose a generic industrial beer (I call them "generic"), and they often don't know what craft beer tastes like. Beeraj is about teaching people what these styles are, encouraging people to find their flavour, and trying to ensure them enjoy it.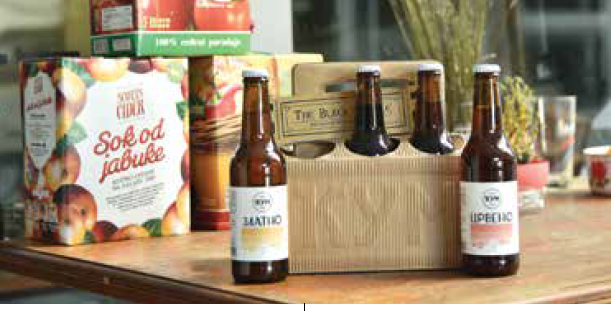 And how many types of beers are you currently offering?
We have eight types on draught, three types in bottles from two different breweries and in the next five days this will grow to four different breweries and a wide range of new flavours in bottles.
You started cider production nine years ago and now you are also in the craft beer business. Do you have any intention to start your own microbrewery for craft beer, which would be a logical step?
Well, no. We started cider production and after seven years we got the chance to expand it, and now we are planning to expand it even further. Now the people know about different brands of cider from the UK, and the girls particularly like cider. There is a clear niche for it after all these years. Now what is especially popular at this time of the year is "zova" (elder) and the juice from elder is huge now. We have an opportunity to bottle Scotts Cider and we are now expanding to domestic and foreign markets.
It is pretty much like music. When someone tries to spread the message, it has to be the right moment. When you see the Coldplay discography, you see that the first five singles charted awfully and they had to wait for the world to accept them.
Exactly, now is the time. Now everybody knows what cider is. You have to take into consideration the maturity of your market. And for an immature market like Serbia's, we definitely came too early. We succeeded in exporting cider from Serbia, and this is our main success. We tried to expand here, but it was not huge. Our main markets for export are Croatia and London.
London? Really? So you managed to "sell the ice to the Eskimos", in a way? I was expecting Romania, Bulgaria, Hungary or the like.
Sort of… Serbian cider was accepted well in London. Cider from Serbian apples was sold to a mature market.
What is your conclusion after all these years in the business?
My conclusion is that, after almost ten years doing business in Serbia, we are finally on the right track. We are seeing microbreweries; we are seeing entrepreneurs and people who are not afraid to try. And there are more and more people in every sector getting involved and this is really encouraging.
Now you cannot scare people, especially not young people. You can't tell them in America "Don't vote for Sanders, it will make America a socialist country". Young people cannot be fooled anymore. They will say, "So what? I've been to Canada and Germany and Sweden and I liked it." They are well-travelled. They have internet and cable TV with hundreds of programmes. Like 24Kitchen made a revolution in cooking, everyone tries to taste something new. It seems that we are in the New Discovery Era and are trying to expand our minds.
Definitely. And it is funny how I missed curry when I came here. In every food, I missed known spices. Thinking in retrospect, it is good to keep the food simple, but on the other hand, having the option to buy spices, to buy different flavours, to experiment with the 24Kitchen, they really pushed the boundaries, they now want to experiment and go further. Try different food, spices, wine, cider, beer. It could be childish in a way, or even ridiculous, but as long as there is an option, it is what we should be fighting for. The same is with cider and craft beer: as long as there is an option, that is really encouraging for the consumer. Who wants to can continue drinking whatever they want, the classical things and brands. But craft beers have done so well in such a short period of time. And that is great.
Source: Diplomacy&Commerce.rs