President of the Republic of Serbia Aleksandar Vučić hosted President of the Republic of Turkey Recep Tayyip Erdogan.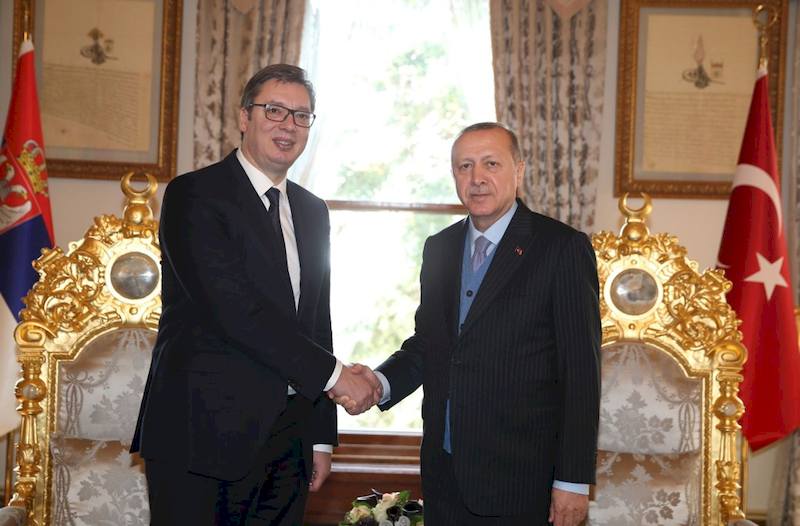 Turkish President Recep Tayyip Erdogan told Turkish businessmen that Serbia has great investment opportunities and stressed that the two countries have a strong will to improve their relations and expand cooperation to several areas.
"Serbia has great opportunities for our investors, because it's located in the center of the Balkans, has a good business environment, quality workforce and incentives," said Erdogan, addressing the Serbia-Turkey Business Forum in Belgrade.
He said the short-term goal is for trade between two countries to reach $2 billion, while the long-term goal is to raise that figure to 5 billion.
Turkey's president said trade has increased by 200 percent since 2010, when the Free Trade Agreement was signed. In 2018, that saw a record, trade reached $1.2 billion, while in the first eight months of 2019 it was 890 million.
"This year I think we will exceed the record from last year. We aim to bring this figure to two billion dollars in the short term, and then to five billion dollars in the long term," said Erdogan.
He recalled that the Free Trade Agreement of 2010 was revised last year and entered into force in June, and that he hopes that, in addition to trade in goods, it will also increase trade in sectors such as agriculture, telecommunications and finance, transport, traffic, and e-commerce.
Erdogan stressed that Serbia is a friend to Turkey and that it's a key country for peace and stability in the region.
He stated that relations between the two countries have been raised to an entirely new level in the past period, and that if there is intent and faith, the means will be found. The Turkish president said that there is a strong will to improve bilateral relations between the two countries, but that the achieved level is not enough and that they therefore want to expand cooperation to several areas.
He also recalled that on Monday in Belgrade several bilateral agreements and memoranda had been exchanged in various fields: security, police, science, military cooperation, economy…
Erdogan said the shared vision of Turkey and Serbia represents a great opportunity for the region and urged businessmen from both countries to continue to together strengthen the economic dimension of the relationship.
"We, as presidents and the two governments are here to provide you with all kinds of support," he said.
As he said, the two countries have trade cooperation that has been on the rise, adding that Turkish companies in Serbia employ 8,000 people in many sectors – textile, automotive, banking and others.
He stated that the number of Turkish companies operating in Serbia has reached 800, while the volume of investments amounted to $1 million in 2011 – and 200 million in 2018.
Erdogan said that a ceremony will take place on Tuesday for six factories, and that a groundbreaking ceremony will be held for one, which, as he put it descriptively, "will add a new gold link to the Turkish chain in Serbia."
He also expects progress in cooperation in the field of construction, stating that Turkish builders will transfer their wealth of experience to Serbia and get involved in infrastructure projects.
On the occasion of the beginning of the construction of the Belgrade-Sarajevo highway, he referred to the words of the president of Serbia, to say it was above all a peace project in every sense.
He emphasized that one of the most promising areas for cooperation was tourism, citing the fact that the number of Serbian tourists in Turkey increased by 53 percent, that is, there were 225,000 last year, while the number of Turkish tourists in Serbia was 97,000.
He also mentioned that a ceremony for a bridge in Sremska Raca will be held on Tuesday.
According to him, Turkish companies are continuing to reconstruct roads in Sandzak.
"You, president, are taking care of all the problems that Turkish businessmen and companies are facing, in addition to the help you have already provided them, and thank you for that," Erdogan said, addressing Vucic.
Source: telegraf.rs