An unscheduled closed session of the government was held in Belgrade on Friday morning due to the incursion of a Kosovo police unit into the north of Kosovo.
President Aleksandar Vucic has had extraordinary meetings with the army and police chiefs this morning.
Other security services, as well as commanders of special military and police units, also took part in these meetings.
Prime Minister Ana Brnabic has canceled all her announced activities for the day and has been in the Presidency of Serbia this morning, where she arrived after the session of the government. After that meeting nobody gave statements to the media.
They all went to the Presidency, and it is expected that someone will announce what Serbia's response will be for the morning events in Kosovo.
Rosu members, armed with rifles, stormed early this morning into the northern part of Kosovska Mitrovica and reportedly arrested three people. Other reports mention that four were arrested – among them a Kosovo Serb policeman.
Representatives of the Serbs in that town called a meeting of their emergency situations HQ. Mayor of Northern Kosovska Mitrovica Goran Rakic called on citizens, who are gathering in great numbers in the city square, to show restraint.
According to Rakic,the excuse of the Kosovo police was that they were arresting suspects for the January murder of one of the leaders of the Serbs in the north, Oliver Ivanovic. However, Rakic ​​doubts this version, and thinks the incursion is about diverting attention from yesterday's event – an apparent reference to the trade war Pristina is trying to start with Belgrade.
"If they (Rosu) had not retreated from the streets, there would have been war," Rakic told TV Prva.
He said he called KFOR to come to the northern part of Kosovska Mitrovica and explain to the people their statement made on Thursday about "having everything under control, and that there was no movement of the Rosu forces."
Prva TV correspondent in Kosovska Mitrovica said citizens are afraid and have been awakened by bursts of fire and sirens that have been wailing for an hour on Friday morning.
"Worst situation in 10 years"; All Serbian services on alert
A stormy night has passed in Belgrade after Pristina decided to impose 100 percent taxes goods coming from central Serbia and Bosnia-Herzegovina.
One of the first results of such a decision was this morning on Twitter – a photo kiosk without Serbian newspapers and Plazma cookies, whose price literally overnight "jumped" from one to seven euros.
Some residents of Kacanik, towns in the south of Kosovo, burned Serbian products last night and recorded this action. According to their words, this came after an appeal for a boycott of Serbian products, media reported.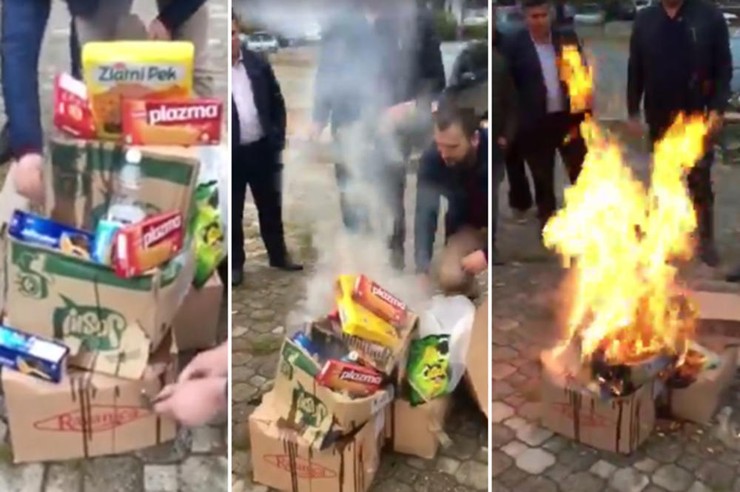 The Council for National Security met, while before that, Serbian President Aleksandar Vucic separately spoke with the ambassadors of Russia and China posted in Belgrade, and then with those from the EU and the US, and their "Quint" allies.
Aleksandar Vucic and Ana Brnabic have asked China's ambassador to tell the Chinese leadership that Serbia has never "never"beeen in a more difficult situation.
Chinese Ambassador Li Manchang responded to this on Friday on Belgrade by saying he will notify the president of China about this in the course of the day.
The president and the prime minister informed Li during a meeting in Belgrade on Friday of the latest developments of the situation, following the storming of Kosovo's Rosu units of northern (Serb) town of Kosovska Mitrovica this morning.
Vucic and Brnabic asked Li to convey to the Chinese leadership that Serbia has "never been in a more difficult situation, despite its constant calls for peace and stability, along with its a serious and responsible approach to solving all the problems."
"The incursion of the Rosu unit to North Mitrovica has shown that the KFOR forces, or NATO, deliberately deceived general public, and today it is clear to everyone on whose orders and in collusion with which forces NATO representatives have lied," said Vucic.
Brnabic said that, regarding the introduction of a (100 percent) tax on Serbian goods – for which move she expect the reaction of the European Union, since this is a case of a violation of the (EU) Stabilization and Association Agreement (SAA), as well as the (regional free trade) CEFTA agreement – it is also a matter for the United Nations because UNMIK, the UN mission in Kosovo, "is one of the signatories" – and in this regard, she expects China's support in the most important world organization.
Li said that China "perfectly understands what is happening in Kosovo and Metohija" and that this is "an already well-known scenario of attack on the integrity of Serbia."
The Chinese ambassador emphasized that during the day, President Xi "will be informed about everything" – and that Serbia can count on China's support.
Vucic specified that Serbia will not impose any counter-measures because, as a reliable partner, it does not wish to violate either EU's SAA or the regional free trade CEFTA deal.
Vucic said he expected EU countries above all to point out to Pristina the unacceptability of its unilateral moves, that risk escalation of conflict and jeopardize peace in the region.
All Serb organs will be on standby to react, to the mindless moves of the Pristina authorities, he continued.
The president repeated that compromise and dialogue are still the only way to solve the Kosovo problem.
Earlier, Vucic told reporters that Pristina's move had created "the most difficult situation for Serbia in the last ten years – worst than the (trade war) with Croatia in 2015."
He called on Pristina to annul those measures and added that dialogue was an attempt to reach a compromise solution between Belgrade and Pristina.
Vucic also had a message for Albanianas:
"Albanians, sober up, we need peace. I plead with you, withdraw your decisions."
Source: b92